---
To submit comments or graffiti for this
chalkboard, please go to "FEEDBACK"
page, using button at left.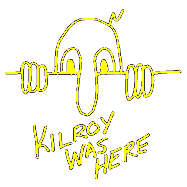 FROM "NBS" (mid-2000):
First of all, your Website is screech! - but what else could one expect from the descendants of such a motley crew! Tho I'd suspect that any red-blooded 'Merican cowboy would object to the comparison. (Don't know about the Aussies; suspect your 'proper' Austrian progenitors are mightily embarrassed. But that's their problem.) My family gets distinctly embarrassed by me!
To the heart of the matter. I read your article in "Let's Live"...
FROM "WOGGLY" (11/2000):
 




I literally bumbled my way on to your fascinating page. I have long 

been



familiar with the work of Dick Huemer -- and have actually already read





a few of the articles included on the site -- and I find this collection





of pages about him very touching and funny. [Ward Kimball's Annie 





speech is classic Kimballese.]





    For many years, I completely associated the name of Dick Huemer with





Disney. When I was growing up, I loved a little yellow-colored 45 rpm





record of the Mouse story

  

"The Whatzis and The Whozis." Dick Huemer is





credited on the record as the author. This stuck deeply in the misshapen





brain of a child of the 'fifties, and for years I naturally assumed that





Mr. Huemer was Walt Disney's right hand guy; the person who wrote and





drew all the Disney cartoons and comic books, as Uncle Walt was clearly





too busy to do them himself anymore. This delusion, er, illusion ran 





so deeply in me that when the Disneyland tv program would feature other





animators or artists from the studio, I automatically assumed that Mr.





Huemer was a reticent, modest fellow who wanted the people who worked





under him to get some of the limelight.





   Obviously, this wasn't the case. But he seems to have been a fine man.





And, judging from the evidence of this website, he raised a great





family.